Happy 100th Birthday Las Vegas
Las Vegas was
founded as a city on May 15, 1905
, when 110 acres of land situated between Stewart Avenue on the north, Garces Avenue to the south, Main Street to the west, and 5th Street (Las Vegas Boulevard) to the east, were auctioned off.
Las Vegas in 1905
In
1906, The Golden Gate Hotel
and Casino opened. The oldest hotel in Vegas still in use. Home of the 99 cent Shrimp Cocktail, first served in 1959 and continues to this day to be a hot attraction downtown. I prefer the $2.99 shrimp cocktail because the shrimp are much bigger.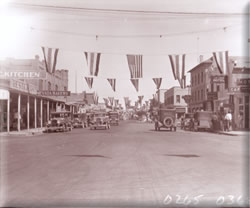 Las Vegas in 1930
On March 19, 1931 gambling was legalized in the State of Nevada. One month later, the city issued six gambling licenses. That same year the Golden Gate Casino changed its name to Sal Sagev (Las Vegas backwards).
It didn't take long before it started to grow by leaps and bounds.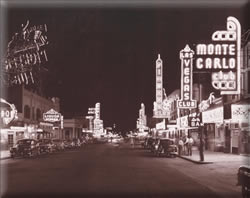 Las Vegas in 1948
Of course, as soon as they started building it, it seemed like they started knocking it down. Here is the
implosion of the Landmark Casino
. Here is a history of the
implosions
. I've heard some rumors recently of the Frontier and the Tropicana being possible future implosions.
Paving the way for the new...

Bellagio
Now its looking more like the Vegas I know. More
historical photos of Vegas
. The
history of some of the hotels on the strip
are on this site (look towards the bottom of the page).
The newest hotel.
Wynn Las Vegas
of which I plan to have many photos when I return Saturday night. here is the
latest buzz on the new show La Reve
at the Wynn, which by the way I have tickets to. I have heard mixed reviews.
OMG! I just want to see one
in person! I'm going to try to win a
vintage framed photo
, I'll also take the $200 winnings!