Point me in the direction of Albuquerque
Okay, hold onto your seats! It's a very
special day today
! It's
David Cassidy's
birthday!!!!! Is he not the cutest thing you've ever laid eyes on? There was not an inch of my bedroom wall that this guy's picture was not plastered on. Of course my favorite show was
The Partridge Family
. Back in 1972
Dave appeared almost nude
in Rolling Stone magazine. Here's a bunch of
old Partridge Family stuff
.
OMG! Dave is going to be in town
in a couple days! He's going to be on Magic 104.3 from 7-9am for an entire week starting April 18th! Yahoo!!!! Maybe I need to go to
Powderham Castle
for the
Once in a Lifetime Tour
starring
The Osmonds
(man that's a lot of kids),
David Essex
(jump up and down in your
blue suede shoes
),
The Bay City Rollers
(hahaha! SA-TUR-DAY night!) and Dave. He's
still a hottie
today, he's looking more and more
like his dad
all the time.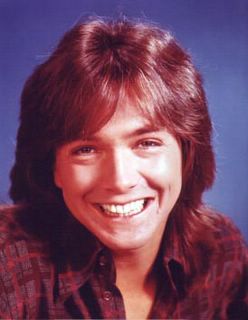 oh boy

For a minute I thought I could buy David Cassidy's face on a toilet seat, wouldn't that be cool, but
that's not what this is
. They do have
some interesting seats
though. Wait a minute, hold everything...a quick check at
FAQ page
and I find out that I can add my own picture. hmmmm, $65, I'll have to think about that. Okay, this is
kinda funny
, I'm going to order these for all my friends for Christmas. Happy Birthday David, if I had a poster of you I'd kiss it goodnight. Ahhh, memories.